Posted Thursday, August 16/07 in General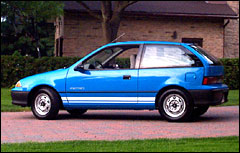 By this time last summer I had already run a bunch of fuel economy tests and tinkered plenty with the Blackfly. This year, if it's not obvious already, I've done precious little.
To the fossil fuel-powered car, that is.
I've actually been working on a variety of other vehicles, and in the spirit of the Blackfly, the common theme running through the entire fleet is efficiency. (Most of them even save fuel by replacing some dino juice driving.)
So here's where my tinker time has been going this summer...