Posted Tuesday, February 10/09 in General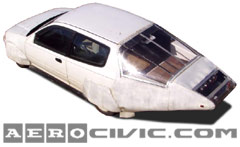 This winter, EcoModder member Mike Turner was looking for a way to give the motoring public more information about his 1992 Honda Civic CX, which he has extensively modified to improve aerodynamics and reduce fuel consumption. Initially, he posted the car's "stats" directly on its flank: coefficient of drag (0.17 est.), fuel economy (70 mpg US average), higher top speed (140 mph estimated), etc.
Well, you've probably heard of the term "unintended consequences" ... and if Mike hadn't before, he definitely knows it now! The writing on the car resulted in enough additional rubbernecking to cause traffic problems, making lane changes difficult for him, and causing cars in the passing lane to bunch up behind the gawkers/readers.
If ever there was a reason to stick a web address on a vehicle, this was it. So I offered to make Mike a web site so he could replace the stats on the side of the car with "Aerocivic.com". Now motorists who see the car have the opportunity to learn the details from the safety of their computer chairs, rather than while barrelling down the highway beside it.
Now even more world famous!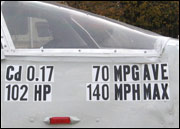 The car's vital statistics posted on its flank caused traffic problems.
In the first two weeks since the site was launched, it has received over 38,000 hits from over 19,000 visitors from around the world: United States, Turkey, Puerto Rico, New Zealand, Austria, Poland, United Kingdom, Finland, Ireland, Canada, Netherlands, Brazil, South Africa, Norway, Romania, Israel, Hungary, France, Australia and Pakistan.
Its popularity is no surprise to me - the Aerocivic discussion thread at EcoModder has one of the highest view counts of the entire forum. People just LOVE to look at, mock, praise, and learn about this vehicle.
It's been linked from more blogs and discussion forums than you can imagine.
And just today, the site was popularized on Digg.com, sending in a flood of thousands more viewers.
Common denominator ...
Mike gives credit to Phil Knox as one of the influences that led him to undertake his streamlining project. He points to the same EV World article about Phil's aeromodded Toyota pickup truck that also sparked my interest in DIY aerodynamics.
As I mentioned in my first MetroMPG.com article about aero mods, Phil definitely deserves recognition for educating people about the importance of aerodynamics in efficiency. The Aerocivic can be counted as another success for Phil's efforts.
The evolution of Aerocivic ...
In addition to the photos on the Aerocivic site itself, Mike has a more extensive photo album that documents how the mods on the Civic progressed from mild to wild: from pizza pan wheel discs and partial rear fender skirts, to quick & easy prototypes of the boat tail, to a full aerofoil shaped arc on the hood/windshield (that ultimately didn't remain on the "production" version).

Why I like cars like this ...
Aero Blackfly?
Am I going to mimic the Aerocivic?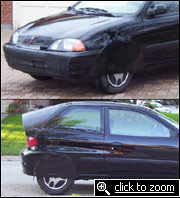 Front fender skirt and finished Kammback - both fiberglass construction. Details to come this year.
You bet. My car continues to evolve, becoming more like Mike's... though obviously at a slower pace. Late last year ('08) I built an articulated front fender skirt and a permanent fiberglass Kammback (both of which I'll document here this year). My ultimate plan is to use the new Kammback as a mounting point for a removable boat tail for highway trips. More to come.
Resources ...