Posted Sunday, August 24/08 in Suzukiclone info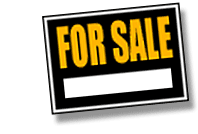 (...Updated Sept 26/08...) My very first car was a behemoth: a 1964 Pontiac Catalina with a massively thirsty 389 cubic inch engine. When I bought it to restore, there was a little notebook in the glove box the previous owner had used to track his fuel economy. I remember the row of exclamation marks beside his best ever fill of 19 mpg (US). Unfortunately, 14 or 15 mpg was the norm.
The big Cat is long gone, and I've come full circle back to Pontiac via the Firefly. But the badge on the hood is about the only thing the Flea has in common with the monster Catalina. Its little 3 cylinder engine doesn't have even 1/6th the displacement of the 389 V8!
Apparently I'm not the only one who has downsized into a thrifty car lately. With $4 gasoline in the US this summer, people were/are abandoning their guzzlers... and apparently their common sense by paying startlingly high prices for some 1 litre action.
From punch line to popularity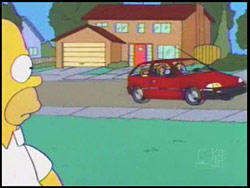 The Flanders family Metro: rolling punch line typical of popular references to the car
Something unexpected happened with the record run up in the cost of gas: the media spotlight briefly swung back to the Metro. Before that, the only media references you were likely to find about the car were automotive punch lines. But you can now find stories about how demand for efficient small cars - and the Geo in particular - has been driving up prices to astronomical levels.
A number of news reports and eBay auctions reveal the Metro mania:
That last CNN piece is notable for two reasons: first, because Brenton is an occasional MetroMPG.com reader. He e-mailed me way back when to tell me how pumped (excuse the pun) he was when he first discovered the great mileage he could get from an old Metro XFi. I heard from him last September after he'd been bitten by the bug: he'd already bought and sold ten (!) XFi's.
What will people pay?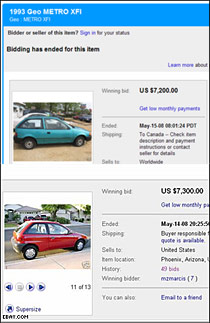 Two Metro eBay results: $7200 low mileage 1993 XFi, top, and $7300 1996 Metro, bottom.
But the mind-blowing bit in the CNN story was the price it reported someone had paid for a garden variety 1996 Metro: $7,300! (No, that's not a typo.)
And lest you think that's an aberration, AutoblogGreen alerted us of another $7k Suzukiclone, this one a '93 XFi model: Autoblog: Geo Metros going for big money on high gas prices
Holy Toledo, maybe it's time to sell!
I have to admit I've been wondering what I could get for mine if I put it on the auction block... "1998 Pontiac Firefly, 16,000 original km (10k miles), $8500 firm"?
No, no, no. I'm not really considering selling.
Seriously, I remember how difficult it was to get my hands on one of these cars when I originally decided to take the 1L plunge. Even before gas prices went up, decent examples of these cars were being snapped up left & right.
The $17,475 Metro
Here are some even more exciting figures: EcoModder member Johnny Mullet invested $829.50 plus his tinker time in a 1998 1L Metro 5-speed. He got it so he could quit driving his Chevy 1500 pickup truck that was getting around 15 mpg (US).
Johnny did the math, and it's impressive. His Geo is now saving him $3,495 a year in fuel costs alone, or $17,475 if he keeps it for five more years.
Of course regardless of the potential savings, only a crazy person would actually pay $7k for a clapped out Metro. But it's clear to see why there's been a rush on them.
Update - Sept. 27/08 ...
Coming late to the party, Car and Driver magazine weighs in, warning the unsuspecting public away from buying used economy cars to save fuel.
They cite performance, reliability, safety, emissions and unpredictable maintenance costs as reasons. And with their tongue planted in their advertiser-supported cheek, they suggest we all go buy brand new Hummer H2's to save the planet.
You can read the C&D piece here, and here's the reaction to it at EcoModder.
Resources ...