Posted Monday, October 6/08 in Mods & Tests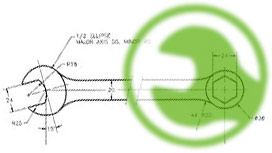 One of the more popular pages on this site, according to the traffic logs, is the list of modifications I've done to my car to increase its efficiency.
Apparently people are hungry for quality information - real ways to save fuel that don't involve dubious gadgets pitched in infomercials, additives promoted with no scientific basis, or hare-brained schemes that occasionally gain traction on the Internet.
With that in mind, the members over at EcoModder have recently compiled a comprehensive list of 65+ gas saving modifications that are well understood & documented with examples.
Eight categories, plenty of examples...
The list (which is still growing/evolving) is grouped into eight categories:
The cool thing is that the majority of the mods on the list have already been done by EcoModders, so plenty of links to examples are provided.
Aero dominates...
Do you find this ugly? AndrewJ is challenging the status quo with his Honda Civic boat tail that increased his highway MPG by 10%
Not surprisingly (to anyone who has spent any time looking through MetroMPG.com), a healthy chunk of the list deals with aerodynamic modifications. Examples range from "mild" to "wild", and include plenty of low-hanging fruit where fuel consumption at highway speeds can be reduced by picking up where the automotive stylists left off, went wrong, or where the corporate bean counters refused to go.
Personally, I get a real kick out of seeing how some of the more "extreme" aero mods challenge our notions of what is aesthetically acceptable about our automobiles. The auto sector's business model relies to a large degree on planned obsolescense through form over function "styling", vs. proper aerodynamic "design". It's refreshing to watch people who embrace efficiency abandon status quo thinking and exclaim, "screw that, I'm putting wheel skirts on my car!"
Skinning knuckles, splitting hairs, breaking the bank...
More than a couple of the mods on the list admittedly split hairs, in terms of their impact on fuel consumption. Be forewarned: there are precious few "magic bullets" (anything that makes more than a 5% MPG improvement counts as significant, in my books). Fortunately there is a lot that can be done on the cheap (or free), and most mods aren't particularly difficult either.
To help neophytes decide which mods to tackle, an attempt has been made to loosely rate each one in three areas:

mechanical skill required;

impact on fuel consumption;

cost of mod
An icon for each category gives some guidance there.

Adjust the nut behind the wheel first...
The 65+ mods list is a perfect companion to EcoModder's 100+ ecodriving/hypermiling tips list. There's no question that modifying driving habits is the easiest, cheapest and fastest way to reduce fuel consumption, and it's where I'd recommend every person start out. And, bonus: you won't skin your knuckles adjusting the nut behind the wheel!
Resources ...