Posted Thursday, January 3/08 in Suzukiclone info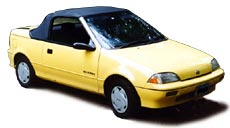 Last time I wrote about Rick was to profile his modded-for-mileage 1993 Metro XFi hatchback. At the time, he had a lifetime average of 53 mpg (US) since buying the car, with a more or less "normal" driving style.
Almost a year later, a quick look at his gas log shows it's climbed to 60.5 mpg. Nice work! Unfortunately, the secret to his success may lie partly in Mother Nature's aggressive vehicle weight reduction program - the XFi has been rusting out from under him!
But there's a silver lining: Rick just picked up a lightly roasted 1991 Metro convertible for $150 and has launched the ambitious Convertible XFi Project. It's shaping up to be much more than just a powertrain swap.
Wheel skirts, lowered suspension and moon discs are just some of the aero mods from the outgoing hatchback that may find their way - along with the XFi drivetrain - into the convertible.
The convertible's shell has already been gutted, and Rick's planning to build in a tubular frame for added stiffness and durability.
Assigning the role of structural support to the new frame will also give him the ability to do some interesting things with the unibody:
further weight reduction by removing former structural unibody elements

he'll be able to make a completely smooth, aero-friendly floor pan;

Among numerous other thoughts, he's also kicking around the idea of ducting airflow from the radiator through the the vehicle and venting it into the rear wake to reduce drag.
Rick has just started documenting Project Convertible XFi at Ecomodder.com. It's worth checking out for more details of the build, and the always edifying & entertaining reactions from the peanut gallery.
My question to Rick was: what happened to the idea of dropping the XFi drivetrain into a Triumph Spitfire (as mentioned in our original conversation)? There's no doubt a tubular frame Convertible XFi will be a one of a kind vehicle, but a Spitfire XFi would win hands-down for style & class. Find out Rick's response to my question in the Ecomodder project thread.

Before, during ... after? Work has already started on stripping the convertible in preparation for its next life.
Another project Rick recently undertook was a rebuild of his own web site, MetroXFi.com. With the addition of blog software, it will be information central for the Convertible project with regular updates and high-res photos of his progress.
Resources ...