Posted Sunday, May 18/08 in Driving efficiently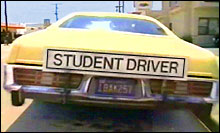 There's no question that the biggest potential fuel saving modification is adjusting the nut behind the wheel.
At the end of 2006 I posted a retrospective that showed this. I compared the impact of all the mods I'd done to the car against changes in driving style. The mods were collectively worth about a 28% improvement in MPG. And the driving techniques? How about a whopping 38% boost.
The benefit of a modded vehicle is that it will get better efficiency regardless of the driver. The benefits of developing efficient driving techniques is they're free and portable - you can bring them to any vehicle you drive.
To help spread the knowledge, several EcoModder members (including your humble nenpi maniac) recently collaborated on a big list of 100+ hypermiling / ecodriving tips & techniques.
Hypermiling... Eco-driving ... Nenpi mania!
"Hypermiling", in case you haven't seen the term before, was coined by Wayne Gerdes of CleanMPG.com to describe a driving style that exceeds the U.S. EPA's fuel consumption ratings for a given vehicle by a specific margin.
In Europe, the same techniques are generally called "eco-driving" (though there's no specific comparison to government fuel economy ratings). In Japan, it's called "nenpi mania" (the term for the more extreme efficiency drivers).
Regardless of where you live, the same rules apply. I'm not going to repeat them all here, but instead list my top 5:
But first, a caveat: DON'T BE STUPID!
As detailed in an earlier MetroMPG.com post, some of the tips on the list are potentially unsafe, depending on the vehicle and the traffic conditions. Some may even be illegal where you live. Yet others are downright discourteous if done around other drivers. So use the tips where appropriate, but above all, use your head: safety and courtesy above MPG.
On to my top 5:
Look well ahead/anticipate. It's the foundation of defensive driving in general and fuel efficient driving in particular. If you don't do it, you're forced to drive in a "reactive" manner instead of a "proactive" one. You effectively hand control over your fuel consumption (and safety) to other drivers. Look well ahead so you're aware of what you're driving into, and can anticipate changes before they occur. And in order to be able to see well ahead, you need to leave adequate following distance to the vehicle(s) in front of you.

Slow down. Not much more has to be said about this than can be seen in this graph from the speed vs. mpg post:




Driving without brakes. Simply put, every time you press the brake pedal, you're effectively turning fuel into heat & brake dust. Driving as though you have no brakes will cause you to minimize "excessive" acceleration and coast up to stops and turns.

Engine-off coasting/no idling. Shutting the engine down when stationary or while coasting up to stops/turns is one of the main reasons for hybrid vehicles' excellent city fuel consumption. Cars like the Metro/Firefly are well suited to shutting down "manually" since they have manual steering (steering effort is not tied to engine power), and like most cars, the brakes are good for 2 full applications before the vacuum reserve is gone.

Pulse & glide. For short trips where you would otherwise hold a constant speed for an extended period, pulse and glide is far more efficient (though also not necessarily safe or appropriate for all cars & conditions).
Some of the tactics on the EcoModder list are admittedly waaaay out there (when was the last time you pushed your vehicle out of a parking space to get it rolling down a grade before starting the engine?). Others have minimal impact. Still others are impractical outside of very specific circumstances.
Still, it was fun to put together, and we hope to keep evolving/expanding it, eg. classifying the tips into sub-categories so drivers with varying skill/motivation levels - from those who are only grudgingly looking for ways to cut growing fuel bills, to the hardcore types who view squeezing every drop of gas as sport - can find appropriate tips.
Have a look: 100+ hypermiling / ecodriving tips to increase gas mileage - EcoModder.com
Resources ...