Posted Tuesday, October 4/05 in Driving efficiently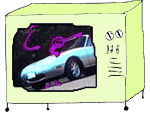 Reduce fuel consumption, lower emissions, and minimize wear and tear on your car.
That's the message in "The next time you get gas: economy driving", a video I produced in 1993 while working part-time as an instructor for Young Drivers of Canada and studying in the School of Journalism and Communication at Carleton University.
It may be 12 years old, but the message is perhaps even more relevant today than it was when I made it.
The bulk of the 25-minute video covers "things you can do to your car" and "things you can do to your driving" to gain greater efficiency. It also briefly touches on alternative modes of transportation and choosing an efficient vehicle.
It culminates with a comparison test of "normal" vs. efficient driving, using a Cadillac Seville V8 as a test vehicle (for its trip computer) over a fixed city and highway route. In the test, I achieve efficiency gains of 27% and 23.5% respectively, using the techniques described.
Keep in mind the the video was originally made for an audience of (new) drivers who had never considered the issues around driving for efficiency. As such, it covers just the most elemental driving techiques (listed below, in Part 5). If you've never given a moment's thought to MPG, you'll probably learn something new from it; experienced fuel economy nuts can find discussion of more "advanced" techniques elsewhere on the Web.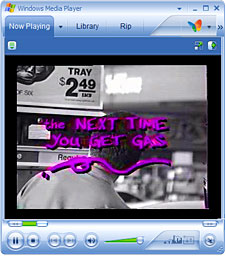 I've posted it over at the Internet Archive. It's fairly low resolution, but it's still big (30 MB in Windows Media format), so you'll need a broadband connection or a lot of patience.
Click here to see The next time you get gas: Economy driving
(Note: MPG figures in the video are imperial, not U.S.)
Part 1 - Introduction
Part 2 - Alternative transportation
Part 3 - Choosing an efficient vehicle
Part 4 - Efficiency - things you can do to your car
- Maintenance
- Tire pressure
- Roof racks
- Ventilation
- Junk in your trunk
- Block heater
Part 5 - Efficiency - things you can do to your driving
- Combine trips
- Idling
- Acceleration
- Speed
- Hills
- Conserve momentum
Part 6 - Comparison test - "normal" vs. efficient driving

Part 7 - Credits