Posted Wednesday, February 7/07 in Suzukiclone info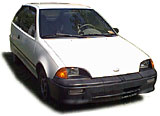 I like learning about other Suzukiclone owners who have been bitten by the efficiency bug. Not only is it a great opportunity to pick up new tips & techniques, but profiling them here has the added benefit of making me seem a little less, um, "extreme" by comparison.
With that in mind, meet Rick. Rick is a genuine motorhead - he's taken his considerable mechanical/technical experience honed on a fleet of traditional high performance cars and applied it to his 1993 Metro XFi to maximize its fuel economy performance for his daily commute. Thus he has also become an econohead.
When it comes to improving efficiency, Rick definitely leans more toward the "mods" side of the "mods + driving technique" formula. The fact that he's been able to average nearly 53 mpg (US) / 4.4 L/100 km / 64 mpg (Imperial) from his XFi, in hilly country, without using any "special" driving techniques is a testament to what he's accomplished mechanically.
The extensive mods he's performed on his XFi are probably beyond what the average Metro owner would do. Some of them include: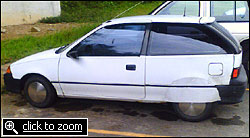 Wheel skirts, lowered suspension, and custom made moon discs are some of the aero mods Rick has made.
I asked Rick a bunch of questions to find out a bit more about his car and how he came to be such an "econohead" ...
How long have you owned your Metro?
I got my Metro in September 2005 on eBay for a decent price. Finding a low mileage XFi in good shape for a decent price is hard to do, so I drove a long way to get it (12 hours one way). When I got the car home it needed an exhaust valve replaced and a new muffler - I lost the stock one on the way home towing it on a car dolly faster than it really wanted to go. It was up and running the day after getting it home.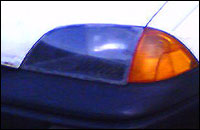 Home made headlight covers.
Is it your first Metro? What motivated you to get one?
This is my first Metro. I normally go for higher performance cars but after taking a job where I have a 100 mile a day commute I started looking around for a small beater car. I just wanted something better than the 20 mpg I was getting. To decide what to get, I searched the Internet and ran across a page about the Metro XFi and decided that is what I needed. I have had good luck with some other Suzuki engines, so I figured it was worth a shot to get one if possible.
Have you finished modifying the car, or do you have more plans?
I am still experimenting with cam and ignition timing. As far as future plans: adding a MSD ignition (mainly to help it run better when the engine is cold). I am really past what the stock computer can deal with as far as tuning goes. The voltmeter on the O2 sensor and knock sensor pretty much confirm that the stock timing curve and fuel map do not work with the way the car is now. So really my only real next option is to get rid of the stock computer and probably go with a megasquirt based computer.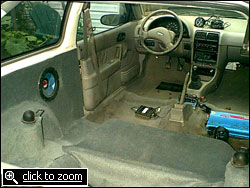 The interior, stripped to save weight. Thin carpeting was glued in place of plastic panels. Only the front 2 seats were reinstalled.
After that I can add a wideband oxygen sensor and exhaust gas temperature sensor to get the car perfectly tuned. Once I do that the only other things left are to get rid of the distributor and go to a coil on plug setup and convert to multiport fuel injection. Beyond that I really don't see much left I can squeeze out of the little 1L engine without a lot more work.
I will have to fix rust problems soon. I have been considering a few options: I can swap all the mechanicals into another Metro (I have one with a perfect body) and be done with it; I can modify the one with a good body by adding a tube chassis and chopping the top to lighten it and get it as aerodynamic as possible then putting my drivetrain in it; or I can find a kit car body with great aerodynamics then stick the drivetrain in that.
Tell me about your driving style.
I don't really go fast - probably no faster than 65 mph most of the time. But I still accelerate with the pedal to the floor around half the time. It is a fun car - raising the compression, new exhaust, and lightening it have made it noticeably faster than stock. It also sticks to the road like glue with it sitting practically on the bump stops (from lowering it). Overall I would say I drive it like "normal" and don't do anything special to get better mileage.
I tried doing pulse and glide once. I ran it up to 60 mph then coasted down to 40 before bump starting and going back to 60. Did that for a 30 mile drive and got 96 mpg (US). It wasn't a long enough trip, so I can't say the numbers are perfect, but it was still interesting that the car has the capability to do 100 mpg if I put the time and effort into my technique. Maybe this summer I'll try to see what I can get out of it.
What other car(s) do you own?
I currently have a '78 Triumph Spitfire, '80 Camaro Z28, '86 Jeep CJ7, '94 Mustang, 2002 Camaro Z28, Manta Montage kit car, and my '93 Metro XFi. So you might say I have a varied taste in cars. (Not counting motorcycles, ATVs and heavy equipment!)
I also have 2 extra Metros in my garage for parts, one '96 model and a '91. I already cut up a '93 and hauled it off to the scrapyard keeping only the suspension and other parts I wanted for a future Triumph Spitfire body/Geo Metro drivetrain car.
A Suzuki drivetrain in a Spitfire??? More info please!
The Spitfire project is still just an idea - I haven't really put any solid plans together. If I build it, the Metro drivetrain will be 100% stock, front and rear suspension and all. I will build a frame to combine the Metro drivetrain with the Spitfire body. It all matches up except the front struts are too long to fit under the Spitfire hood - that's the only thing that will have to be non-stock from the Metro. If I can build it that way it will be easy to maintain later on since there will be no custom parts, just off the shelf Metro mechanicals.
If you had to do this all over again (finding/modding an efficient beater/commuter car), would you do anything different?
I like Suzuki made stuff. I have had their motorcycles and ATV's, and their small cars seem to be built as well as the bikes. There is nothing complicated in these cars - they are super easy to work on. I also think having a Metro is fun because they have been made fun of for so long it can be a total shock to people to learn what kind of mileage I can get out of this thing driving it the way I do. And since nobody else around here has modified a Metro I get to be unique - or at least stared at when I drive by! Overall I don't see any other car that really does what I want it as well as this Metro does.
Thanks, Rick. Looking forward to watching what else develops!
Resources ...
Other MetroMPG.com "econohead" profiles ...