Posted Monday, December 18/06 in Mods & Tests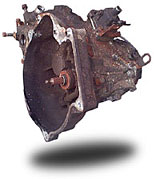 "Nerd gear" is the description my brother in-law and I came up with for the key feature of our ideal transmission: we decided that auto manufacturers should offer a much taller-than-usual top gear (a nerd gear) as an option in an otherwise "regular" transmission.
Why? Because too many small engines spin at 3000+ RPM at highway speeds, which we declared to be unnecessary and wasteful in the hands of an attentive driver.
It's true that a car with a nerd gear would see slower top gear performance (acceleration & possibly max speed), and it would require the driver to shift to & from top gear more often (depending on load/terrain). But if you're willing to tick the box labelled "nerd gear" on the option sheet, we figure you're probably willing to pay a little more attention to proper gear selection for the fuel economy payoff.
So I did it - or something very close to it: I swapped transmissions in the Blackfly, and was rewarded with a healthy improvement in fuel economy.
Tranny transplant overview ...
Beyond the nerd gear

Terms & definitions

Swap motivation

Doing the math: gear ratios for dummies

Can you overdo overdrive?

Doing the swap: transmission plug 'n' play

Blackfly mpg results: before & after the swap

Post-swap observations & re-learning to drive

Gearheads: corroboration from other transmission tinkerers

Resources
Beyond the nerd gear ...
I actually went much further than installing a nerd gear. The fact is, there is actually no readily available extra-tall 5th gear that I could just drop into my stock transmission. So what I did was swap the whole transmission from a 4-cylinder Suzukiclone into my 3-cylinder car.
The gear ratios are the same, but the taller final drive in the 4-cylinder transmission makes all my gears taller than stock. It's a mechanical mix 'n' match that the Suzukiclone engineers never intended to happen.
Terms & definitions ...
Before undertaking this project, I'll admit I wasn't totally sure what the term "final drive" even meant. So, for the benefit of anyone else who may be shaky on transmission concepts, here's a brief run-down, with links to more info, pics & fancy animations:
"Tall" gearing: just describes gearing which, compared to "short gearing", results in lower engine RPM for a given road speed. The transmission I installed from the 4-cylinder car has a final drive that makes my overall gearing "taller".

Final drive: this is the name for the gear ratio in the differential. It's the last set of (fixed) gears in the drivetrain before the axles.

Differential: is a gear arrangement that permits the axles to turn at different speeds (e.g. when turning), and it's the final set of gears that reduces engine speed to axle speed. If you've got a rear drive car, the differential is part of the rear axle, separate from the transmission. In front-wheel drive cars, it's part of the transmission, or "transaxle". More info: How Stuff Works

Transmission: for a good overview of how a manual transmission works, check out How Stuff Works.
Swap motivation ...
I'd never gotten deeply mechanically involved in a front-wheel-drive car before this project. To be honest, I had always been a bit intimidated by the magnitude of FWD drivetrain work: disconnecting ball joints, removing axles, working in confined spaces - it all seemed so much more complicated than working on a rear-wheel drive car. So I avoided it.
Another point that delayed me giving this idea the green light: I was reluctant to swap out a perfectly good transmission with only 8,000 km (5,000 miles) on it!
But eventually, it grew too hard to ignore the bee in my bonnet which grew louder as it fed on tantalizing info from a number of sources:
The deal was clinched when it turned out that a 1993 Suzuki Swift 1.3 that a friend and I bought to convert to an electric car was too rusty to save. Its transmission was good, though, and it had the taller final drive that would work in the Blackfly.
Doing the math: gear ratios for dummies ...
FYI, here are the gear ratios for all the 1.0L Suzukiclones and the 1.3 SOCH hatchback:
1st gear: 3.416
2nd gear: 1.894
3rd gear: 1.280
4th gear: 0.914
5th gear: 0.757
Final drives:
4.39 - 1.0L garden variety (1995 and up), 13 inch wheels
4.105 - 1.0L garden variety (1989-1994), 12 inch wheels
3.79 - 1.0L XFi (1989-1994), w/12 inch wheels
3.523 - 1.3L SOHC (1989-1994), w/13 inch wheels
Usually, the lower the final drive number, the lower the engine RPM for a given road speed. The garden variety 1989-2000 3-cyl cars actually have similar engine RPM because the difference in their final drives accomodates different wheel/tire sizes.
Comparison of engine RPM at 80.5 km/h (50 mph) in 5th gear - various final drive ratios.
The graph below shows the change in RPM I could expect from the swap. It was a deciding factor to green light the project.
What you see in the graph is a comparison of engine RPM in top gear at 80.5 km/h (50 mph) that my car was turning in stock form compared to the XFi, the Swift 1.3 donor car, and then a calculation of what the Blackfly's RPM would be using the Swift's transmission (it's even lower than the Swift because the Blackfly came with taller tires, and that lowers engine RPM even further).
It also shows that in 4th gear with the Swift's final drive swapped in, the Blackfly's engine would be turning at practically the same RPM that it turns in 5th with the stock transmission. So the swap would effectively gain me another gear. Running in 5th with the 3.52 would be MPG gravy.
Can you overdo overdrive?
I recall reading about someone who tried this (of course I can't find the reference now), who was not very happy with the results. The new gearing was so tall that the car's already slow acceleration became unbearable. He ended up using lower gears longer and more often, and with much more throttle than before, which negated the theoretical fuel economy benefit of the swap.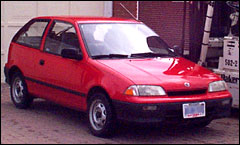 The donor car - this 1993 Swift 1.3 had extensive underbody rust.
So is it possible to overdo things with gearing changes? Sure. Your OEM final drive was chosen by the engineers to balance fuel economy & performance. Depending on how & where you use your car, you could easily go too far:
Heavy loads: your OEM gearing / f.d. is designed so the engine can handle a full load of passengers or cargo. If you regularly carry a lot of weight, changing the f.d. could be a problem.

Hills: if you live in a mountainous/hilly area, you may already often be at the "limit" of driveability with your stock gearing & final drive.

Clutch wear: changing the final drive may require much more aggressive clutch use to get moving in first gear. If you drive in an area where you regularly have to accelerate briskly to accomodate other drivers, this will reduce clutch life.
Fortunately for me, none of these scenarios apply in my typical driving.
Doing the swap: transmission plug 'n' play ...
Despite having never done anything like this to a front wheel drive car, it wasn't all that difficult. I really shouldn't have been so wary of taking the FWD plunge.
Suzuki's engineers made the job pretty easy, too: the Swift's 3.52 f.d. transmission is a direct plug 'n' play replacement for the Firefly/Metro's 4.39 unit.* Yes, the 4-cylinder car's transmission uses different mounts & shifter rods (because it's offset further to one side of the engine compartment to accomodate the extra length of the 4-cyl engine block), but all of that hardware comes off the transmission casing, and the 3-cyl hardware fits in its place.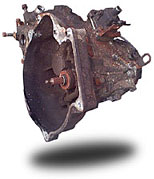 The actual transaxle. Aside from its final drive ratio, another nice thing about it is it only weighs about 27 kg (60 lbs). Easy to move around. Click for a larger view.
Here's the checklist:
jack & support front end

drain engine coolant (to move a couple of coolant lines).

drain the transmission oil

remove starter

disconnect clutch cable, reverse sensor wires, speedo cable

remove axles

loosen or remove exhaust downpipe (to gain access to a transmission bolt)

support engine

unbolt & remove transmission
Reverse the steps to install the replacement.
In the hands of an experienced mechanic, this job should only take a couple of hours. But I won't lie: it took me a whole weekend (partly because there were some family activities going on too). The most difficult step was sliding the replacement transmission back onto the engine. (Hint: be patient getting the input shaft lined up straight with the flywheel, and leave the transmission in neutral so you can turn the shaft to help it slot into position. Also, the engine mounts are pretty soft, and the engine will squirm around while you're trying to wiggle things into place.)
(* One teamswift.net member in Germany reported that when he tried this swap, the transmission casings did not match and he had to also swap over the shifter stabilizing rod from the 4-cylinder car.)
Blackfly mpg results: before & after the swap ...
For baseline data with the original transmission, I used the readings from the Speed vs. MPG experiment with the original gearbox. After swapping transmissions, I went back to the same road on 2 different days and collected more readings from bi-directional runs.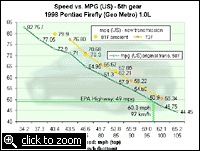 MPG difference between the two transmissions in the Blackfly across a range of speeds.
The graph shows the uncorrected average MPG difference between the the two transmissions is 7.9%. But it doesn't take into account the effect of different ambient temperatures on the days the readings were taken (fuel consumption varies measurably with temperature).
So, plugging the temperatures into a formula for rolling resistance and aero drag, I calculated that 2.5% of the 7.9% increase could be attributed to the temperature differences, which leaves 5.2% of the FE improvement owing to the transmission change alone.
Post-swap observations & re-learning to drive ...
From the very first test drive, I loved it. The swap turned the car into a long-legged beauty. First gear isn't at all unmanageable on the flat, the gearing suits my driving style perfectly. Very happy.

Learning to drive all over again: it took me a while to unlearn my old shifting habits based on engine RPM with the original gearbox. I now have to stretch the revs just a little more when accelerating because the gaps between gears are bigger.

Hill starts: I won't lie, they require noticeably more clutch slippage, as my "new" 1st gear is equivalent to about halfway between gears 1 & 2 on the original gearbox. But it's not unmanageable. If I were driving around with 2 or 3 other people in the car on a regular basis and lived in a hilly place, it would perhaps be an issue.

One glitch: the OEM tires on the Blackfly are taller than the OEM tires on the Swift I got the transmission from. This makes my speedometer & odometer under-report by 5.8% (the difference in circumference of the tires). Not a big deal, since the ScanGauge can be adjusted to compensate, so its speed & MPG calculations remain consistent. (The taller transmission lowered RPM by 19.8%. Add the tire size difference, and it makes for a total effecive RPM change of 25.6%.)

One piece of advice: to anyone considering this kind of mod, I'd suggest trying larger diameter wheels/tires on your car first, to get a feel for whether you'll like the change in gearing. Beg, borrow or steal a set if you don't have any that will fit. It's much easier to undo if you don't like the results.
True gearheads: corroboration from other transmission tinkerers ...
A number of Ecomodder.com members have done transmission swaps for better fuel economy. Some were changes from automatics to manuals, like SVOboy's 91 CRX DX (shown) and DaX's 90 Civic DX sedan (shown).
Others were upgrades from "regular" manual transmissions to taller manual transmissions from the efficient VX, HF & CX cars, like Matt's '89 Civic LX sedan, and Budomove's '91 Civic hatchback (shown).

People who have swapped transmissions for better fuel economy.
Update, Jan 23/2008: I received a message from another transmission modder who performed and documented a 5th gear swap in his '98 Ford Escort ZX2.
Getting straight to the juicy bit: he saw an average mpg improvement of 6%.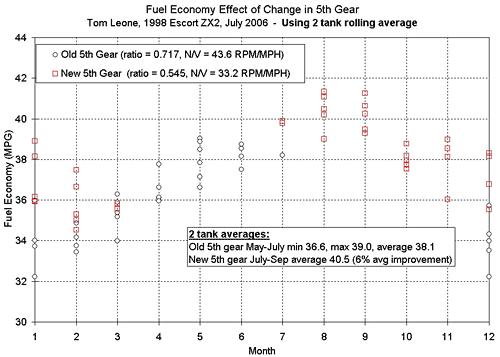 1998 Ford ZX2 fuel economy graph - before & after the 5th gear swap
I recommend a look at his thorough web site which details the modification and the ultimate results (he ended up removing the gear from the vehicle): Modifying Gears for Taller Overdrive
Resources ...