Posted Tuesday, November 14/06 in General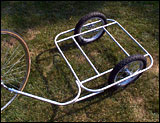 As strange as it may sound at first, my car's average fuel economy has declined because of a small cargo trailer I built this summer to pull behind my beater 10-speed bicycle.
That's because driving techniques typically permit me to get higher fuel economy in sub/ex/urban driving than I get on longer (higher speed) highway trips. So every time I use my bicycle instead of the car for a local trip, the proportion of highway driving in a given tank of gas goes up, and my overall fuel economy goes down!
A peculiar conflict: high MPG or low GHG?
Of course replacing a car trip with a bicycle trip means I'm using less fuel overall, which is ultimately the most important consideration.
But if you're the kind of person I am, who really, really, really likes to see high MPG numbers on the gas receipt calculations, you'll understand why I am slightly conflicted (yes, perversely) whenever I pedal past my parked car to run another errand under human power.
My other car is a bicycle ...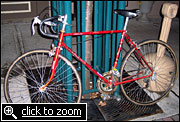 Rescued from the jaws of the garbage truck.
Living in a small-ish city has its benefits. For one thing, as long as it's not raining (or snowing), getting around by bicycle is a genuine transportation option for one-person trips. The absolute farthest I typically have to go is no more than a 20 km round trip, and the average trip is definitely way shorter than that.
Which means that when the weather is good, for 9 or 10 months of the year the car sits parked much of the time while the bike racks up the local kilometers.
My vehicle of choice? A beat up 30 year-old Raleigh 10-speed that my neighbours put at the curb one garbage day about 5 years ago. It needed a seat post and a couple of inner tube patches to get it functional again. Did they mind if I rescued it from the jaws of the garbage truck? "Of course not - take it away!"
Its "styling" is outdated, and the brakes aren't very good. The rims are a little rusty, and the seat is torn and not very comfortable. But these things combined make up its best feature: it's such a piece of crud that I have never locked once it in the 5 years I've had it, and no one has stolen it!
The birth of a $23 bike trailer ...
I've carried some unweildy loads on the beater bike, balanced precariously over the handle bars or jammed into my knapsack. But its general lack of carrying capacity is a weak point.
So this summer I fixed that problem by making a cargo trailer, based on designs seen at the Community Bike Cart Design web site, and by copying my brother's 2-tot kiddie trailer.

With newly developed brazing skills (learned fixing the rusty floor of a car a friend and I are converting into an EV ... but that's another story), and about $11 worth of electrical conduit, wheels from a used kids bike ($7) and a few miscellaneous parts ($5), I put together my trailer in an afternoon.
Trailer for cargo = car doesn't go ...
Now, with the ability to pull otherwise awkward or heavy items on the little cargo trailer, I have one less reason to fire up the car.
And those reasons have been many. Here are some of the things I've transported that otherwise would have been moved in the car (well, most of them):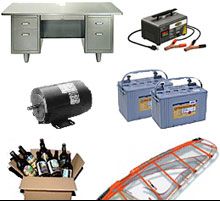 Some of the stuff that has gone by bike trailer, rather than car.
ironically: two car transmissions (Geo Metro/Pontiac Firefly 5-speeds), weighing about 130 lbs total

a stamped steel desk (taken to the recycler)

two 12-volt marine batteries and charger

an 18 foot long windsurfer mast, sail and boom (extended alongside the right side of the bike, so I could only make left turns!)

beer

a heavy electric motor

my little nieces and nephews (they'd much rather take turns riding on my home-built cargo trailer than in their proper store-bought kiddie trailer - probably because mine is not as safe, and therefore more fun)
Not for the shy ...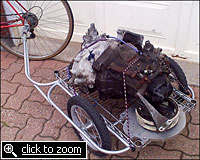 Transporting two car transmissions & other parts for an EV project
I actually find it kind of amusing towing things behind the bike. For some reason, people (especially kids) are excited by the sight (which is odd, because I don't see them getting as excited about the kiddie trailers).
If you make or buy your own trailer, be prepared to talk to people about it and answer questions: "where'd you get that!"
I suppose that counts as another "plus" that makes up for the lower MPG the car is getting as a result...
Resources ...