Posted Friday, July 14/06 in Suzukiclone info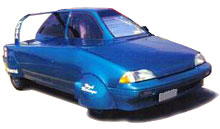 Apologies to my reader (to borrow a joke from Click and Clack) for the long delay since my last post. I spent most of June on a trip, travelling about 1400 kilometers on a 100 ton diesel hybrid. But I'm back now, catching up on a variety of tasks, and have a serious backlog of interesting things to talk about.
Let's start with this radically modified-for-fuel-economy 1989 Geo Metro XFi.
Apparently, owning one of the most fuel-efficient cars ever sold in the U.S. wasn't enough for Doug Heffron. So in 1993, motivated in part by his daily 50 mile commute, he transformed it in his garage into this amazing 2-passenger highway commuter car capable of 75 mpg (US) (3.1 L/100 km; 90 Imperial mpg). That's a whopping 29% higher than its original EPA highway rating.
Demonstration vehicle ...
I learned some of the details about the XFi "Aero Car" from a web site put up by Mr. Heffron's son, Rick, at http://www.dougheffron.com/car.html (formerly at www.1989geometro.com>).
The web site documents the car's construction, as well as its builder's desire to encourage government, auto makers, and the general public to embrace the idea of fun, efficient commuter transportation. In that sense, the XFi wasn't just a road-legal daily driver - it was a rolling demonstration project. (A fact supported by a number of decals on its flanks: "Experimental Aero Car", "Built and designed by Doug Heffron & Sons".)
The XFI's major design changes are:
dramatically improved aerodynamics


a custom machined taller 5th gear


weight reduction of almost one fifth - or 300 lbs - from stock
Of course, the aerodynamic modifications are what stand out most. Here, Heffron went for the jugular, and he dramatically reshaped the car's passenger compartment to improve its highway efficiency. At a glance, frontal area is reduced by about 25% (probably the greatest contributor to improved CdA), the flat portion on the right side of the car tapers downward from the firewall to the tail lights, and drag is further reduced by front and rear wheel skirts.
Pragmatic radicalism ...
Armchair aerodynamicists may look at the clever tandem Metro and point out that it could have been optimized further, shaped better, made slicker. But wherever I see potential for improvement on Heffron's design, I also see that he was very pragmatic with his modifications:
The "cockpit" could have been further tapered and its roof downsloped into more of a teardrop or "boat tail" shape ... but that would have compromised rear seat space. Also, it would have forced modifications to the driver's door as well as all of the car's windows (whereas in its current form, it appears Heffron managed to retain 4 out of 6 stock windows).

Similarly, the flat top of the right side of the car might have been tapered a bit further downwards towards the rear of the car to reduce trailing wake even more ... but that would have forced a relocation/redesign of the tail lights, and possibly interfered with the rear strut tower.

A participant at MaxMPG correctly pointed out that a single rear wheel design would have permitted even more body taper and less rolling resistance ... and that may be true, but it also would have taken this project well beyond a one-month "back yard" endeavour.

The fact is that Heffron stuck to a very practical "radical" aero design (if that's not an oxymoron). He also points out, "the car is a prototype," and isn't necessarily what a "production" version might ultimately look like. Heffron deserves credit for holding the reins on design issues to preserve a manageable project, while still achieving remarkable efficiency gains.
An "interview" with the builder
Intrigued and impressed by the Aero Car's design & workmanship, I contacted webmaster Rick Heffron in early June to ask if his dad would answer some more questions I had about the Metro. He agreed, and our Q & A is presented below... (Rick has also posted the Q & A on http://www.dougheffron.com/car.html (formerly at www.1989geometro.com>).)
1) MetroMPG.com: What kind of car(s) are you currently driving? Any other special or unusual cars in your personal history, besides the Metro?
Doug Heffron: I am currently driving a Chevy Prism.
2) MetroMPG.com: Regarding the mileage - 75 MPG - is that a combined total of all driving after the conversion, an individual "best" tank, the "highway" figure, or something else? If it's a total figure, did you get any individual tanks that were higher?
Doug Heffron: My 1989 Metro got 75 mpg most of the time, except when there were a lot of hills.
3) MetroMPG.com: Do you use any specific driving techniques to help with your fuel economy?
Doug Heffron: No special driving techniques were used.
4) MetroMPG.com: What kind of driving did you mostly do with the car (e.g. interstate @ 65+ mph, mostly secondary highway use at 55 mph, or mostly "city" driving, etc.)?
Doug Heffron: Most of the driving was on the interstate.
5) MetroMPG.com: The text on the right side of the front page of your web site reads like a letter to an automaker. If it was, did you ever get a reply?
Doug Heffron: I sent about 18 letters out to the Governor's of New York and other state's hoping they would bring it to the attention of the auto manufactures, their reply was, "It was something they were not set up to handle".
6) MetroMPG.com: What's your background in automotive aerodynamics? How did you get interested in the topic?
Doug Heffron: My interest in automotive aerodynamics came from building my own airplanes. I also have a flying instructor's license.
7) MetroMPG.com: We can't tell from the photos, but is there also a smooth under tray beneath the car? Anything else that isn't shown/mentioned?
Doug Heffron: The car's right side from the front to the rear has 2 large hinged hatched doors for storage. I estimated one time you could carry 16 bags of groceries in the hatch with no problem. The doors open with a magnet and are made of aluminum to cut down on weight. I also had a bracket for the front and back on the right side of the car so when I went to the lumber yard I could carry 12 ft 2x4's home. This was a prototype car. The next car would have a smooth under tray.
8) MetroMPG.com: The rear "basket handle" style wing - can you explain why you added it?
Doug Heffron: The rear basket handle, as you call it, is a combination of roll bar protection and stabilizes the car at high speed. I have had the car to 80 mph in an engine off situation going down a hill it did not want to reach the speed where it would not go any faster if you know what I mean. The car is real slick.
9) MetroMPG.com: The newspaper article mentions changes to the transmission - can you explain that in a bit more detail?
Doug Heffron: The transmission was the hardest part. 1 found a way to change the 5th gear ratio. I made the gears myself on my lathe. A very proud moment for me. The local machine shops wanted $2,500.00 for 2 gears.
10) MetroMPG.com: Did the body modifications affect the side-to-side balance of the car? Is the left side a bit heavier? Does it drive the same as an unmodified Metro?
Doug Heffron: This car is very stable at high speed because of its shape 1 used to enjoy driving it on the powered side of the road in the winter at higher speed because I could not believe how stable it was.
11) MetroMPG.com: Why did you stop driving it? And, is it back on the road again? What are your future plans for the car?
Doug Heffron: I was going to put the car back on the road again as soon as I found the time but my first love is flying. I am older now and I am trying to enjoy life. With the information I now have I know it is possible to build a commuter car that would get 100 or more miles to a gallon of gas. If you get the chance, go rent the movie Tucker - The Man and His Dream.
12) MetroMPG.com: Lastly, anything else you want to mention that I haven't asked about, please feel free to send it along.
Doug Heffron: I did research for 2 years on this design before I built it. I remember asking an older gentleman, "I want to build a high mileage car, where do I start?" He said, "You start in the library." He was right it is all there in black and white. I hope this information will help. Leave it up to the back yard mechanic if there is a way he will find it. The auto manufacturers are the ones that really lose. They have a chance to sell a lot of high mileage commuter cars. They can build safe fuel efficient and fun to drive cars for a low price.
DIY inspiration ...
In the end, Doug Heffron may not have had a great response from government or the auto manufacturers. But his Aero Car definitely continues to fire the imagination of like-minded DIY efficiency hobbyists, encouraging us to learn more about efficiency and aerodynamics, and even apply some of those lessons to our own vehicles.
His story - and the technical success of his vehicle - reminded me a lot of aerodynamics enthusiast Phil Knox and his modified Toyota pickup, which coincidentally also improved its highway fuel economy by about 29%.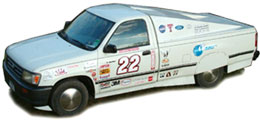 The Phil Knox aero modified Toyota pickup.
Both of these gentlemen and their vehicles deserve recognition for throwing convention to the wind and showing us what's possible.
Resources & related links ...