Posted Tuesday, November 1/05 in Suzukiclone info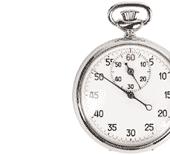 It took me several months of scanning the car ads and a couple of road trips to look at Suzukiclones before I eventually got the Firefly.
I missed out on a few incredible low-mileage cars during my search. There was serious demand for the ones that were in fantastic shape; four were snapped up by other buyers before I even had a chance to see them in person.
First, I missed out on these low-mileage examples (all were 1.0L, 5-speed, one-owner, private sales):
1994 Suzuki Swift
2 door hatchback
white exterior and blue interior in original, like-new condition
19,000 actual kilometers (11,806 miles)
always garage parked
certified and emission tested
asking price: $3400 CDN ($2894 US)
19k kms? Wow! This Suzuki, an hour's drive from home, came up right at the start of my search. But when I first saw the ad, it was already in the second week of its two week run. The car had long since sold. Drat.
Next, came a...
1997 Pontiac Firefly
2 door hatch
green exterior, grey interior
27,000 kms (16,777 miles)
certified and e-tested
asking $3400 CDN ($2894 US)
This old lady's car slipped by under my nose right in my own town! I was using the Auto Trader web site, and wasn't watching the small-town paper (which usually only has a couple of cars in it at any given time). So, when I saw this ad on its second day, guess what? The car had already sold. Double Doh!!
After a couple of months of missing out on low-mileage gems and several other "average" cars, I realized I had to act fast when I saw a potential candidate. That realization paid off: quick action landed the Firefly purchase. (It was in demand more because of its low price than its condition - and I only got it because I promised the seller a $100 non-refundable deposit if he would hold the car until I got a chance to look at it.)
Since I brought the Firefly home, I've continued to keep an eye on the classifieds because during my search I discovered that a real gem is listed every couple of months. I'm satisfied with the car I bought, but I'd happily replace it with one that has 100,000 fewer kms on the clock.
Just last week I missed out on this one, carefully maintained by an older couple as a second car (I saw the craigslist ad too late) ...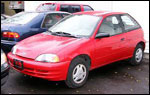 1999 Chevrolet Metro
2 door hatch
red exterior, grey interior
like new condition
25,000 kms (15,534 miles)
certified, e-tested
asking $3900 CDN ($3320 US)
...proving once again that the early nerd gets the Metro.
---
Update: [Nov. 9/05 ...]
The above-mentioned '99 Metro reappeared on the AutoTrader web site this week. Apparently, it was sold to an Ottawa used car dealer who has thoughtfully re-listed it for sale at $4,900. Fuggeddaboudit.
Update: [Nov. 23/05 ...]
I got one - an ultra low miles '98 Firefly. Read about it here.