Posted Tuesday, February 14/06 in General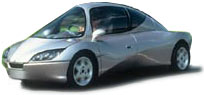 You're looking at the German made Jetcar 2.5, so named for its ability to achieve an average fuel consumption of 2.5 L/100 km (113 mpg Imp. / 94 mpg US).
The builder apparently experimented with several drivetrains to propel this trim (660 kg / 1455 lbs) glass fibre vehicle, including battery electric, as well as a 1-cylinder diesel, before ultimately settling on a 3-cylinder 799cc common rail diesel.
While looking at the pictures on the Jetcar web site, I was struck by how similar its 3-bolt wheels are to the wheels available on the Smart car. A quick visit to Smart Canada's web site confirmed my observation, and revealed the same engine specs too.
Hmmm...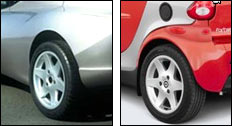 Separated at birth? Jetcar, left; Smart, right.
Jetcar specs:
------------
engine: 799 cc common rail diesel
power: 30 Kw / 40 hp
transmission: 6-speed electronically shifted
weight: 660 kg / 1455 lbs
fuel economy: average 2.5 L / 100km (113 mpg Imp. / 94 mpg US)
Smart specs:
-----------
engine: 799 cc common rail diesel
power: 30 Kw / 40 hp
transmission: optional 6-speed electronically shifted
weight: 730 kg / 1609 lbs
fuel economy: average 4.2 L / 100km (67 mpg Imp. / 56 mpg US)

Not that there's anything wrong with borrowing the mechanicals of a very efficient microcar.
In fact, it's a brilliant illustration (assuming the cars actually do share the same powertrains) of how dramatically fuel economy can be improved simply by shedding some weight and using an aerodynamically superior design.
---
Does pulse & glide work in an electric vehicle?
Recently on the Electric Vehicle Discussion List (EVDL), someone asked whether the pulse and glide driving technique would help extend the range of an EV.
The topic was aptly tackled by list member Lee Hart, who did both a great job of succinctly summarizing why it works for internal combustion vehicles as a means of explaining its much lower level of utility to EV drivers:
> Does pulse and glide help EV's?

Yes, it can if done properly. But you have to understand why it works to do it properly.

ICEs have a strong efficiency peak at some particular horsepower, which is usually some substantial fraction of full horsepower. For example, a 100hp engine might be most efficient at 50hp. But if you run it at 10hp or 100hp, it is less than half as efficient (uses twice as much fuel per horsepower).

The trouble is, the vehicle itself is most efficient at low speeds, where wind resistance is negligible. So the slower you go, the more efficient the vehicle gets but the less efficient the ICE is.

If you drive at a constant speed, then the best fuel economy occurs where the product of the vehicle and engine efficiencies reach a peak. This typically occurs at 30-40 mph. But the vehicle only needs 5-10hp to drive at this speed, so its efficiency is less than half its peak
efficiency.

Fuel economy champs found a strategy to beat this problem long ago. The trick is to always run the engine at its peak efficiency (say 50hp), or shut it off entirely. But keep the vehicle speed as low as possible, so aerodynamic losses are negligible. Start at some very low speed like 10 mph. Put it in gear so the car's momentum starts the engine. Run the engine at 50hp, which makes the car accellerate strongly. When you reach the speed where wind resistance losses begin (like 40 mph), shut off the engine, take it out of gear, and coast back down to 10 mph. This is "pulse & glide". On any car, you can at least *double* your fuel economy by driving this way.

The same principle applies to an EV, except that the electric motor has a much flatter efficiency vs. horsepower curve. A motor might peak at 85% efficiency at 20hp, but is still 75% efficient from 1hp to 50hp. This means there is less to be gained by pulse & glide. So pulse & glide would give you an extra 10% range, not double the range.
For the EV inclined, you can read Lee Hart's complete response at the EVDL Yahoo archive from which this quote is taken. The negative impact of the Peukert effect on pulse and glide is also discussed.
---
Geo Metro XFi? Free parking in Salt Lake City!
This week Salt Lake City added itself to a growing list of U.S. cities that reward residents for choosing "green" cars. The reward? Free parking at city meters.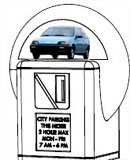 To qualify for the exemption, the vehicle must achieve over 50 mpg (US) according to its official EPA city rating. According to the city's web site, only three vehicles made since 1994 currently qualify: the fuel-sipping '94 Metro XFi model being one of them. (Care to guess the other two?)
An external news report also indicates that alternate fuel vehicles (and presumably electric cars) qualify as well.
Congratulations to the uber-efficient Geo!
Resources ...
- - -
MetroMPG miscellany for December 15/05...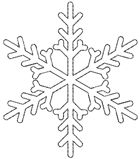 Winter hiatus: unfortunately, this past week winter truly made its presence known around here - we're expecting 30cm / 12in. of snow tonight. Unless Santa brings me a large heated work space for Christmas (not likely), further aero and other efficiency mods and tests are on hold until the Spring. That said, I'll continue to update the site with items of interest while dreaming of warmer weather...

Block heater update: it's working great. I also added a 500 watt heater fan inside the car (a compact ceramic unit) and connected it to the block heater extension. So now the inside of the car is as toasty as the motor when plugged in for an hour and a half. The direct result of this is that both the car and I are now spoiled. I had to go out unexpectedly this week (so nothing was pre-warmed) and neither the car nor I was happy at -8C / 17.6 F. There is a noticeable difference in the way it runs when started cold.

Aerodynamic philosopher: John Gilkison, an aerodynamics enthusiast and fellow MaxMPG Yahoo group member, writes occasionally in the blog section at EV World. This week he posted a thought-provoking item about how our perception and response to vehicle styling & design changes once we understand the significance and potential of aerodynamics. Read We are Reality Producing Machines.

Side skirts in the news: from Green Car Congress...

WalMart truck with side skirts and other efficiency modifications. Click image to read about it at Green Car Congress.

"Wal-Mart has set a goal of doubling the fuel efficiency of its new heavy-duty trucks by 2015. Some of the changes include trailer side skirts. Wind skirts under the trailer significantly reduce wind resistance and reduces airflow around the trailer. This is a big fuel economy benefit."

More on this and the other efficiency mods (and pictures) in the GCC article, Wal-Mart Seeks to Double Truck Fuel Economy by 2015.

International calculator/converter: the visitor log shows that most MetroMPG visitors come from the U.S., followed by Canada, South America and Europe. I try to offer mileage (and other) figures in everyone's native format, but sometimes forget. So I added a javascript mileage converter to the Firefly's MPG details page. From there you can also open it in its own tiny window to keep handy for converting figures while you browse this and other sites.
- - -
MetroMPG miscellany for December 2/05...

Upcoming articles: yesterday a rare calm morning coincided with a gap in my schedule, so I got out to run my final batch of tests on air filters, plus a new series on cardboard/duct tape DIY aerodynamic mods. The results of the latest areo mods were surprising - and by that I mean good!


Google ads: the ubiquitous ads have landed here - a small attempt on my part to defray some of the costs of running the site. I'm not supposed to ask visitors to click the ads, so I won't. Watch for an integrated Google site search feature in the near future as well.


Link: a great article, Special Report: Improving Aerodynamics to Boost Fuel Economy, at edmunds.com